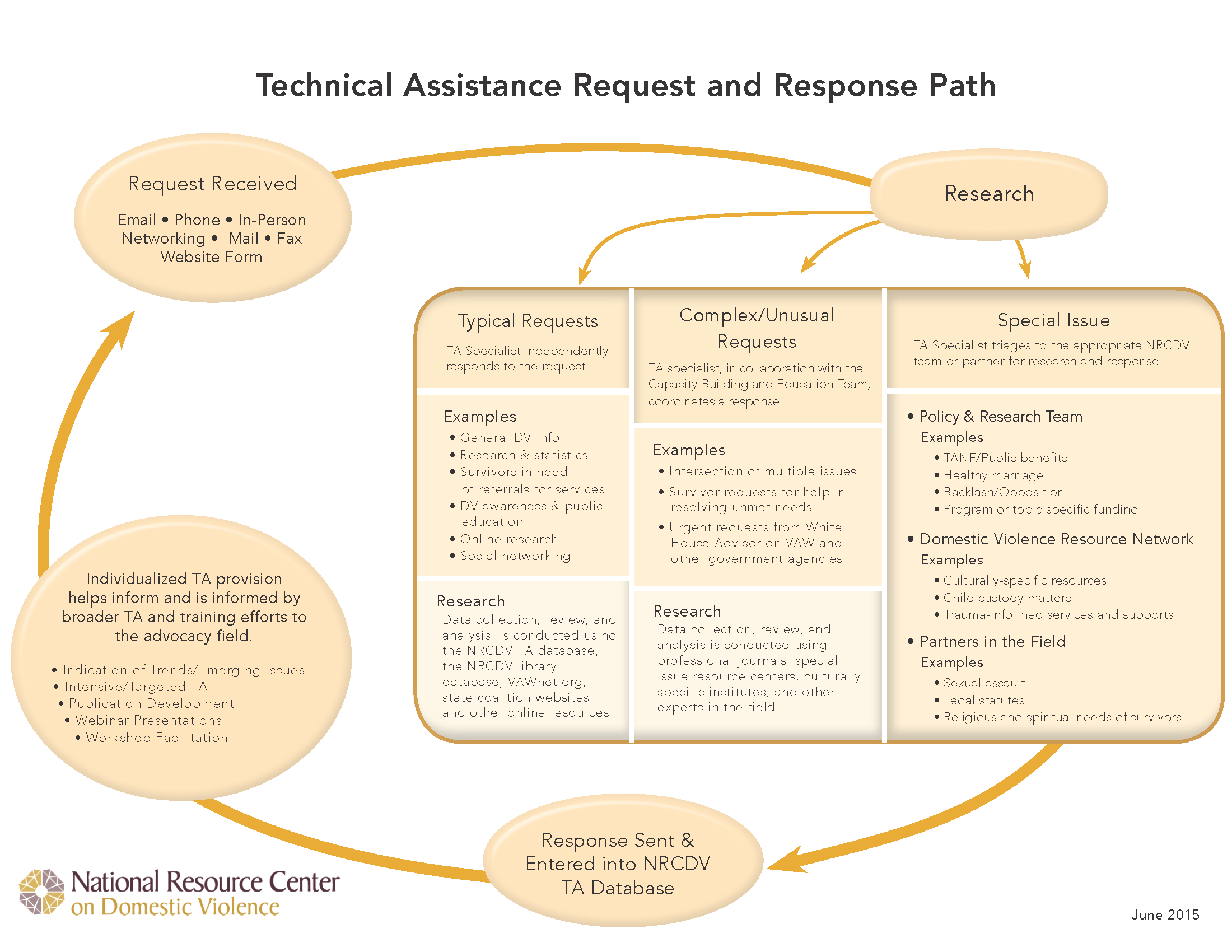 Since accepting its first call in 1994, NRCDV has responded to more than 60,000 requests for technical assistance (TA) on a broad range of topics.
A core part of NRCDV's work, we define Technical Assistance (TA) as the sharing of information, resources, referrals, and/or materials on topics related to domestic violence in response to requests from anyone who wishes to expand their knowledge or build their capacity to address these issues.
Who does NRCDV assist?
NRCDV provides a wide range of free, comprehensive, and individualized TA to a broad range of constituents, including but not limited to:
Advocates seeking best practices information to enhance their services to trauma survivors
Social workers seeking age-appropriate books to use with children who have been exposed to domestic violence
Media professionals seeking statistics and recommended sources to quote in their stories
Policymakers seeking input on policies and legislation to protect survivors and their children 

Students seeking to learn more about domestic violence and ask questions for school projects

Family and friends seeking suggestions on how to help a loved one or how to get involved in helping end domestic violence in their communities
Employers who wish to strengthen their workplace's response to domestic violence
Professionals seeking awareness materials to display in their agencies or to handout at community events
Anyone seeking information related to domestic violence and intersecting issues
To learn how our TA helps our constituencies in their efforts to prevent and end domestic violence, visit our Impact page.
How will my request be processed?
This NRCDV Technical Assistance Request and Response Path Infographic depicts how requests for TA move through NRCDV teams, are responded to, and ultimately generate a more comprehensive provision of assistance, resources, training and support to the broader domestic violence victim advocacy field. The breadth and diversity of TA and training requests we receive help inform the NRCDV's focus, priorities, activities and research endeavors.
To request technical assistance, please contact NRCDV Technical Assistance Specialist at 1-800-537-2238 or email at nrcdvTA@nrcdv.org. Please allow 3-5 business days for response.